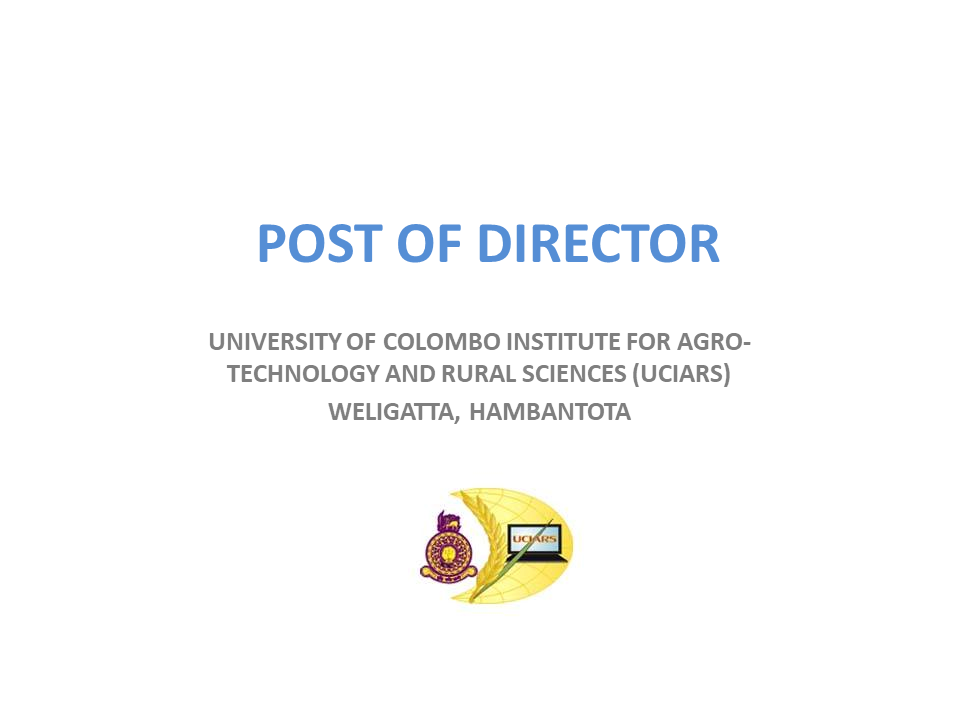 POST OF DIRECTOR
UNIVERSITY OF COLOMBO INSTITUTE FOR AGRO-TECHNOLOGY AND RURAL SCIENCES (UCIARS)
WELIGATTA, HAMBANTOTA
The University of Colombo Institute for Agro-technology and Rural Sciences (UCIARS) invites applications from suitably qualified persons for the Post of Director.
The UCIARS attached to the University of Colombo was established in August 2008 at Weligatta, Hambantota. The Institute has been conducting courses (Higher Diploma and Bachelor's Degree) and providing instructions, training, research and development, consultancies and community extension programmes in Agro-technology, Agro-businesses, Rural Sciences and other related areas.
The Director shall be the Principal Executive Officer, Principal Academic Officer and the Accounting Officer of the Institute. He/She shall be an Ex-officio member and the Chairperson of the Board of Management, Academic Syndicate and the Boards of Study of the Institute. He/She is also a member of the Senate. The Director shall be responsible under the direction of the Vice Chancellor of the University for the maintenance of Discipline within the Institute.
The Director shall, unless he/she vacates office earlier or is removed from office, hold office for a period of three years, reckoned from the date of his/her appointment or until he/she completes his/her sixty fifth year, whichever event occurs earlier. No person shall be appointed as Director for more than two consecutive terms.
The applicant is expected to have a record of high academic achievements with excellent managerial and communication skills and experience preferably in a University environment. Applications for the post should be accompanied with full Curriculum Vitae including the date of birth and a statement outlining the vision of the applicant for the development of the Institute and a detailed account of what the applicant proposes to achieve if appointed to the post. Applicants from higher educational institutions and government institutions are required to forward their applications through the respective Heads of Institutions.
The successful applicant will be placed on a suitable point in the salary scale of Professor (U-AC 5(I) Rs.139,175-11×2,925-171,350 p.m. as at 01.01.2020). The successful applicant will also receive other relevant allowances as approved by the Government/University Grants Commission.
Applications in a sealed cover marked on the top left-hand corner of the cover "Post of Director/UCIARS" should be either handed over or sent under registered cover to the undersigned to reach him on or before 23rd July 2019.
The successful applicant is required to be on a full-time basis at the UCIARS, Weligatta, Hambantota.
Registrar
29.06.2019
University of Colombo