Institute for Agro-Technology and Rural Sciences
University of Colombo.
කොළඹ විශ්ව විද්‍යාලීය
කෘෂි තාක්ෂණික හා ග්‍රාමීය විද්‍යාතනය.
Open Distance Education for Farmers
ශ්‍රී ලංකාවෙහි මුල් වතාවට කෘෂිකර්මාන්තයේ යෙදෙන්නන්ට සහතික පත්‍ර ඩිප්ලෝමා හා උපාධිය ක් ලබා දෙන පළමු ආයතනය කොළඹ විශ්වවිද්‍යාලයේ කෘෂිතාක්ෂණික හා ග්‍රාමීය විද්‍යා ආයතනයයි..
උසස් අධ්‍යාපනය අවැසි දැනට කෘෂිකර්මාන්තයේ  නියලී සිටින ශ්‍රී ලාංකේය ප්‍රජාවට.
තමන්ගේ වගාවන්හි යෙදෙන අතරතුර බාධාවකින් තොරව පාඨමාලාව හැදෑරීමේ පහසුකම මෙයින් සලසනු ලැබේ.ලෝකෙයේ දියුණු අන්තර්ජාල ඉගෙනුම් ක්‍රමවේදයන් මෙහිදී භාවිතා කරන අතර කෘෂිකර්මය 100% ප්‍රයෝගික  විෂයක් බැවින් ප්‍රායෝගික පරීක්ෂණ ,ප්‍රයෝගික ක්‍රියාකාරකම් , විද්‍යාගාර පරීක්ෂණ,පර්යේෂණ හා දේශනා ශාලා තුල පැවැත්වෙන දේශන හරහා දැනුම සපයනු ලබයි.අන්තර්ජාල ක්‍රමවේදයට අමතර ප්‍රයෝගික ක්‍රියාකාරකම් සඳහා ආයතනය පැමිණිය යුතුය.
WE BELIEVE THAT HIGHER EDUCATION IS FOR EVERYONE
Contribute for increasing the productivity in Agriculture in Sri Lanka
Education Research Extensions and Technology Transfer

To be the Virtual, Entrepreneurial, Technological University with International Standards.
Producing Entrepreneurship Oriented Graduates and other Human Resources in technologies associated with Regional Sciences through an entrepreneurial Institution supporting knowledge Economy of Sri Lanka.
Research and Development
More
UCIARS Organic Technology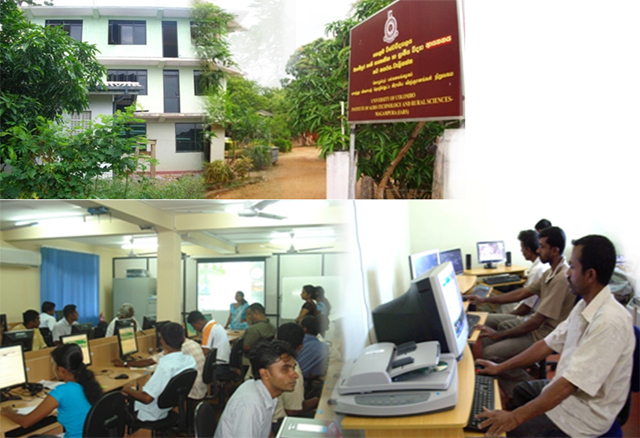 ACADEMIC DIVISION
Course Coordinator
Institute for Agro-Technology and Rural Sciences,
Weligatta-New Town,
Hambantota,
Sri Lanka 82004
අධ්‍යන අංශය
පාඨමාලා සම්බන්ධීකාරක
කොළඹ විශ්ව විද්‍යාලීය කෘෂි තාක්ෂණික හා ග්‍රාමීය විද්‍යාතනය,
වැලිගත්ත නවනගරය,
හම්බන්තොට
82004
Phone: 047-362-0468
Fax: 047-322-0044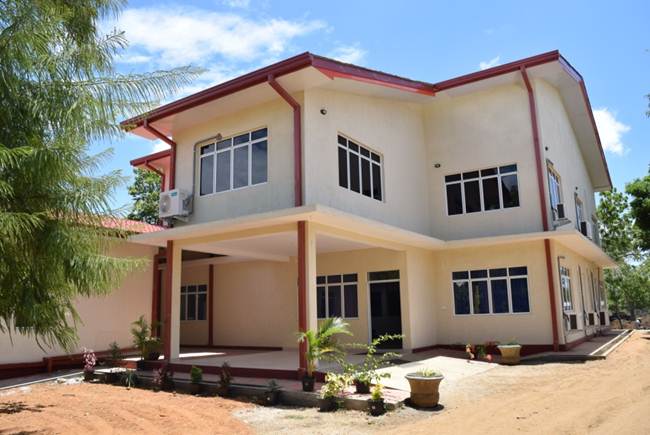 ADMINISTRATION DIVISION-
Assistant Registrar
Institute for Agro-Technology and Rural Sciences,
Weligatta-New Town,
Hambantota,
Sri Lanka 82004
පරිපාලන අංශය
සහකාර ලේඛකාධිකාරී
කොළඹ විශ්ව විද්‍යාලීය කෘෂි තාක්ෂණික හා ග්‍රාමීය විද්‍යාතනය,
වැලිගත්ත නවනගරය,
හම්බන්තොට
82004
Phone: 047-362-6615
Fax: 047-322-0044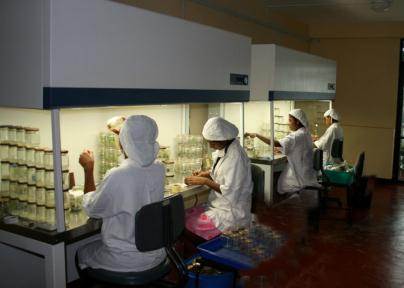 TISSUE CULTURE & NURSERY DIVISION
 Officer Incharge
Institute for Agro-Technology and Rural Sciences,
Weligatta-New Town,
Hambantota,
Sri Lanka 82004
පටක රෝපණ සහ පැල තාවන් අංශය
කොළඹ විශ්ව විද්‍යාලීය කෘෂි තාක්ෂණික හා ග්‍රාමීය විද්‍යාතනය,
වැලිගත්ත නවනගරය,
හම්බන්තොට
82004
Phone:  047-348-9085
Fax:  047-322-0044